Roger Waters Authentic Signed 8.5x11 Photo Autographed, Pink Floyd, JSA COA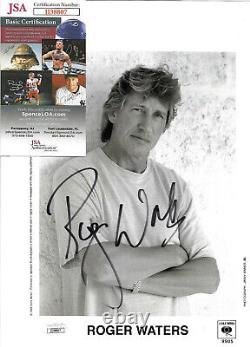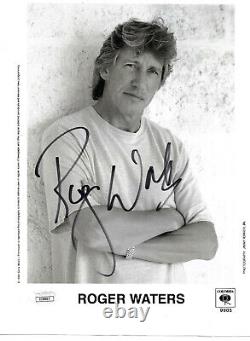 This is an autographed 8.5x11 photo of musician Roger Waters from Pink Floyd. It is signed beautifully in black sharpie.
There are some minor condition issues such as slight wrinkling in spots on the photo, otherwise in good shape and hardly noticeable framed up. This is an authentic hand signed item.
It comes with a JSA Certificate of Authenticity. In some cases I'm able to get a picture with the celebrity and I will post that as proof. Other pictures were taken of them signing that I either took personally or by other collectors as well. In either case, the chances are generally slim of capturing the exact and precise moment of them signing the specific item listed.
I do alot of research and spend time finding celebrities at hotels, concert venues, sports games, and other events. It takes more time and effort than some people realize, but it has been a positive experience overall with this hobby.
This is not my full time job as I'm a teacher first with this hobby being secondary and something I enjoy in my spare time. Most of my higher end autographed memorabilia I try to get professionally authenticated, but many other items I will sell as is, however, I stand behind every product I sell and feel 100% confident in it's authenticity. If I had all items authenticated then I would have to charge quite a premium, therefore, I'd rather offer some at more affordable prices than endure the expense of having every single piece inspected by third party companies. If you need it any quicker please inform me. All items are well protected when packaged.
Feel free to contact for any other questions.

---