1992 Score Autograph/signed #801 Cliff Floyd Expos Nm/mt E020922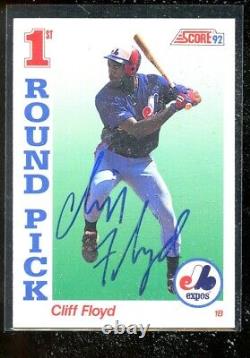 Condition of the item is listed in the title please look at scan to verify. Bill & Tam : For customers unfamailier with the universal grading scale for cards, please understand that cards in the following conditions will have a crease: VG, Good, Fair, Poor. Also the following qualifiers could be found in parenthesis afer the grade: (OC) Off center, (PD) Print defect, (MK) pen or pencil mark, (MC) Miss cut.
Please message us with any questions regarding a grade if you are unsure.

---