Pink Floyd Dark Side Of The Moon 1973 UK 1st Press Solid Blue + Signed Poster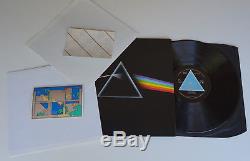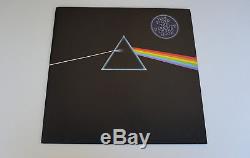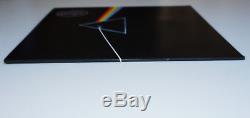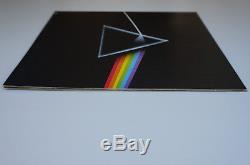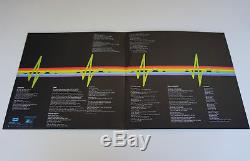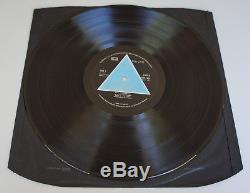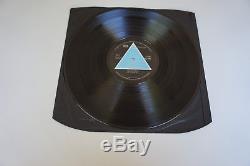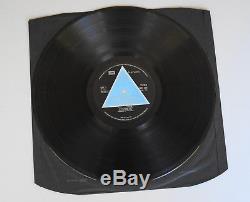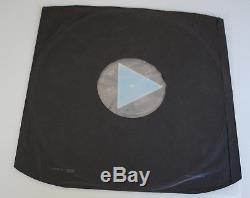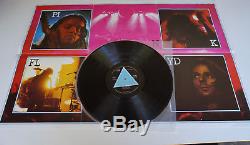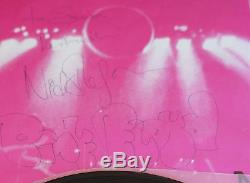 The Dark Side Of The Moon. Original 1973 UK First Issue, on solid Blue triangle labels, with Gramophone Co. INCLUDES A HYPER RARE, 1973 ORIGINAL POSTER, SIGNED BY NICK MASON, WITH PINK FLOYD BUBBLE WRITING!!!
Original mid 70's autograph, not a recent One! Ultra rare solid Blue triangle label with A3 B2 matrices - there are only 5 known stamper combinations for the A3/B2 run-outs, on Solid Blue labels, and this One has a First Mother indicator, stamped on the Side Two run-out. (A3 3 GOM B2 1 GGD).
Comes in a Near Mint gatefold sleeve, with Purple hype sticker. Heavy card sleeve, with the front opening left open, with no glue, or folded flap. Original Black, poly lined inner sleeve, with patent numbers in Silver text. The Vinyl record is visually Near Mint. Flat, unmarked, and great shine.
The audio is Near Mint, with just a light background fuzz / static for a few moments of the quiet areas at the start of "The Great Gig In The Sky". Side Two - Near Mint. There are a couple of very slight signs of use near the spindle hole, but very few, and you really have to look hard.
No writing or physical damage to either of the labels. The most iconic, and recognisable album cover art, in the history of music. The Gatefold sleeve is in NM condition.
The spine and mouth are really nice, as is the Purple hype sticker, the sleeve is in fantastic condition. The front of the Gatefold sleeve is left open, not glued, or sealed with a flap. Great spine, edges and mouth. The stickers were found inside the folds of the posters, so they were well protected from being damaged, as they often can get stuck and creased inside the spine bend of the gatefold sleeve.
The backing paper is tan with 45 degree angled diagonal stripes of dark brown from the top to bottom, and "FasPrint Permanent, " and Crack Back Patented. There is no catalog number on either of the stickers.
The Original Poly Lined, Black Inner Sleeve. With "Made In Great Britain" and patent numbers, printed in Silver text.
The approximate dating of Nick Mason's signature is not difficult, and should you need to seek authentication, the be sure to identify my claim that this is an early to mid 1970's autograph, done in Biro, not a sharpie. I can assure you that this was signed by Nick Mason in the mid seventies, as there is a glaring hint that most (decent) authentication experts will be aware of, and that is the fact that Nick Mason has used a circle above the "i" in "Nick", and he only circled the "i" in the early years, when Bubble writing was a new style of USA street graffiti originating in 1970, and became a cultural sign of the times for the early 1970's, after being pioneered by New York Graffiti artist "Phase 2". Example of a PHASE 2 piece on a subway car, utilizing the bubble letter style. It was in late 1972 that Phase 2 first used an early version of the "bubble letter" or "softie", a style of writing which would become extremely influential and is considered a "giant leap" in the art form. The puffed-out, marshmallow-like letters drawn by Phase 2 were soon copied by other artists who added their own variations.
You may find an occasional signed copy of Wish You Were Here, with his "i" circled, but I have yet to see a copy of Animals, (or anything after Animals) signed in this way. Nick Mason circled his "I" from 1970 earliest example, on the Toshiba Japan AHM print signed insert from 1970 - the latest example I have ever seen is 1975 (WYWH). This is a full name , well signed , peach of an autograph, with Bubble writing "Pink Floyd". I just realised that the lead picture, with all the contents, is of the back of the sleeve, not the front with the hype sticker...
There is a pic of the front, but the first pic was taken of the back by mistake... This record must be be sent fully insured, tracked and signed for.
The Great Gig In The Sky. Artwork [Sleeve Art, Stickers Art]. Bass, Vocals, Synthesizer [VCS3], Effects [Tape].
(tracks: A2 to A4, B3), Mason. (tracks: A1, A4, B3), Wright. (tracks: A2, A4, A5, B2, B3), Waters. (tracks: A2 to A4, B1, B2, B4, B5). Recorded at Abbey Road Studios, London between June 1972 and January 1973.
I Records The Gramophone Co. Hayes · Middlesex · England File under POPULAR : Pop Groups _______________ This is the original form of the release, it has solid light blue prism LP picture labels with silver lettering, later forms have an empty prism. It has a gatefold sleeve, and there are three known variations of the original blue-tinged sleeve - see below. Originally delivered with 2 posters and 2 stickers.
There are 2 systems for track numbering on the release. The cover lists the titles A1 to B5 (used in this submission).
The labels however number the tracks from (a) to (i) so, for example, "Breathe" is listed as "(a)(II)" on the label but "2" on the cover (see images). The following is a guide to identifying all of the elements that make up the first pressing: 1.
The label has a solid light blue prism. Subsequent pressings have a blue glowing inner edge prism with the centre black.
Text starts at 10 o'clock on label. A-2/B-2 matrix stamps appear in the runout area. Thick heavyweight vinyl believed by some to be the'finest' and most true encapsulation of this historical recording as the first pressing was pressed direct from the original masterplate. There is a distinct bluish tint/tinge in the black ink of the cover.
There are three known original sleeve variations. The right front opening of the gatefold cover is sealed with the two sides glued together. The right front opening of the gatefold cover is sealed with a fold over flap that is glued inside the opening.
The right front opening of the gatefold cover is not sealed. A known 2/2 matrix, 1 mother, G stamper copy came with (3), an unglued and non-'folded in' sleeve at time of release, which hints at the possibility that very first pressings did not come with glued flaps, which is where the poster and stickers were located.
Inner sleeve is a distinctive polythene lined die cut black semi matt paper with white printed text stating 2 patent numbers bottom left [1125555/1072844] and'MADE IN GREAT BRITAIN' bottom right. Posters and stickers were printed on paper stock that has a rough texture (later pressings used paper that was gloss laminated).
Stickers have printed backs with diagonal lines across them, and the words'Fasson''FasPrint' and'Crack-Back'. Some copies came with a small round sticker white text on blueish black stating'Pink Floyd The Dark Side of the Moon' (confirmed for stampers GL/MO), while some others do not. ____________ This first edition was initially pressed by The Gramophone Co.
From July 1st, 1973 by its legal successor, EMI Records Ltd. Catalog number 1E 064 o 05249 appears in small fonts and parentheses on the cover rear. Note on Credits: Though credited for the entire album, Barry St John, Doris Troy, Lesley Duncan, and Liza Strike perform backing vocals only on tracks A4, B2, B4, and B5. Matrix / Runout (Label A): SHVL 804A.
Matrix / Runout (Label B): SHVL 804B. Matrix / Runout (Runout A, stamped): SHVL 804 A-2 3 GOM. Matrix / Runout (Runout B, stamped): SHVL 804 B-2 1 GGD. A few words about condition.
Grade & score out of 100. GRADING Mint is a Rigid Band - The next Four Grades are all Narrow Bands, that slightly widen as the condition gradually deteriorates - Good is still Good, but there is a rapid widening of the Grade Bands, as the condition deteriorates over the last Four grades. The record itself is in brand new condition with no surface marks or deterioration in sound quality.
The cover and any extra items such as the lyric sheet, booklet or poster are in perfect condition. Only graded on records that are sealed or clearly unplayed.
NEAR MINT 97 to 99 EXCELLENT 90 to 96. The record shows virtually no signs of having been played, there is no lessening in sound quality. The cover and packaging might have the slightest of tiny defects. The record shows some slight signs of having been played, but there is very little, (if any) lessening in sound quality. The cover and packaging might have very slight wear.
VERY GOOD PLUS 80 to 89 VERY GOOD 69 to 79. The record shows signs of having been played, but there is very little lessening in sound quality. The cover and packaging might have slight wear, light creasing.
The record has obviously been played many times, but displays no major deterioration in sound quality, despite noticeable surface marks and the occasional light scratch. Normal wear and tear on the cover or extra items, without any major defects. This is an above average used record, that has been well looked after. The record has been played so much that the sound quality has deteriorated, but the record will still play through, and it will not be a completely unpleasant listening experience, even at the bottom of this grade (56). The cover and contents may suffer from folding, scuffing of edges, spine splits, discolouration, etc.
The record is still playable but has not been cared for properly and displays considerable surface noise; it may even stick, skip or jump.. This is starting to be an unpleasant listening experience at the top of the grade (55) and will not be a pleasant listening experience at all by the end of it (41). T he cover and contents will be torn, stained and/or defaced. The record will not play properly due to scratches, bad surface noise, etc.
The cover and contents will be badly damaged or partly missing. The record is unplayable or might even be broken, and is only of use as a collection-filler. The Sleeve is non existent (0) or what is left, is only just recognisable.
(well packed in a box, inside the satchel). The item "Pink Floyd Dark Side Of The Moon 1973 UK 1st Press Solid Blue + Signed Poster" is in sale since Monday, December 31, 2018.
This item is in the category "Music\Records". The seller is "australian-vinyl-vault" and is located in Kelmscott, WA. This item can be shipped worldwide.
Artist: Pink Floyd
Modified Item: No
Custom Bundle: No
Style: Progressive/Art Rock
Duration: LP
Record Grading: Near Mint (NM or M-)
Speed: 33 RPM
Record Size: 12"
Sub-Genre: 1970s
Record Label: Harvest SHVL 804, Harvest 1E 064 o 05249
Release Year: 1973
Edition: 1st Edition
Genre: Rock
Non-Domestic Product: No
Sleeve Grading: Near Mint (NM or M-)
Special Attributes: 1st Edition
Language: English
Title: Harvest SHVL 804, Harvest 1E 064 o 05249

---